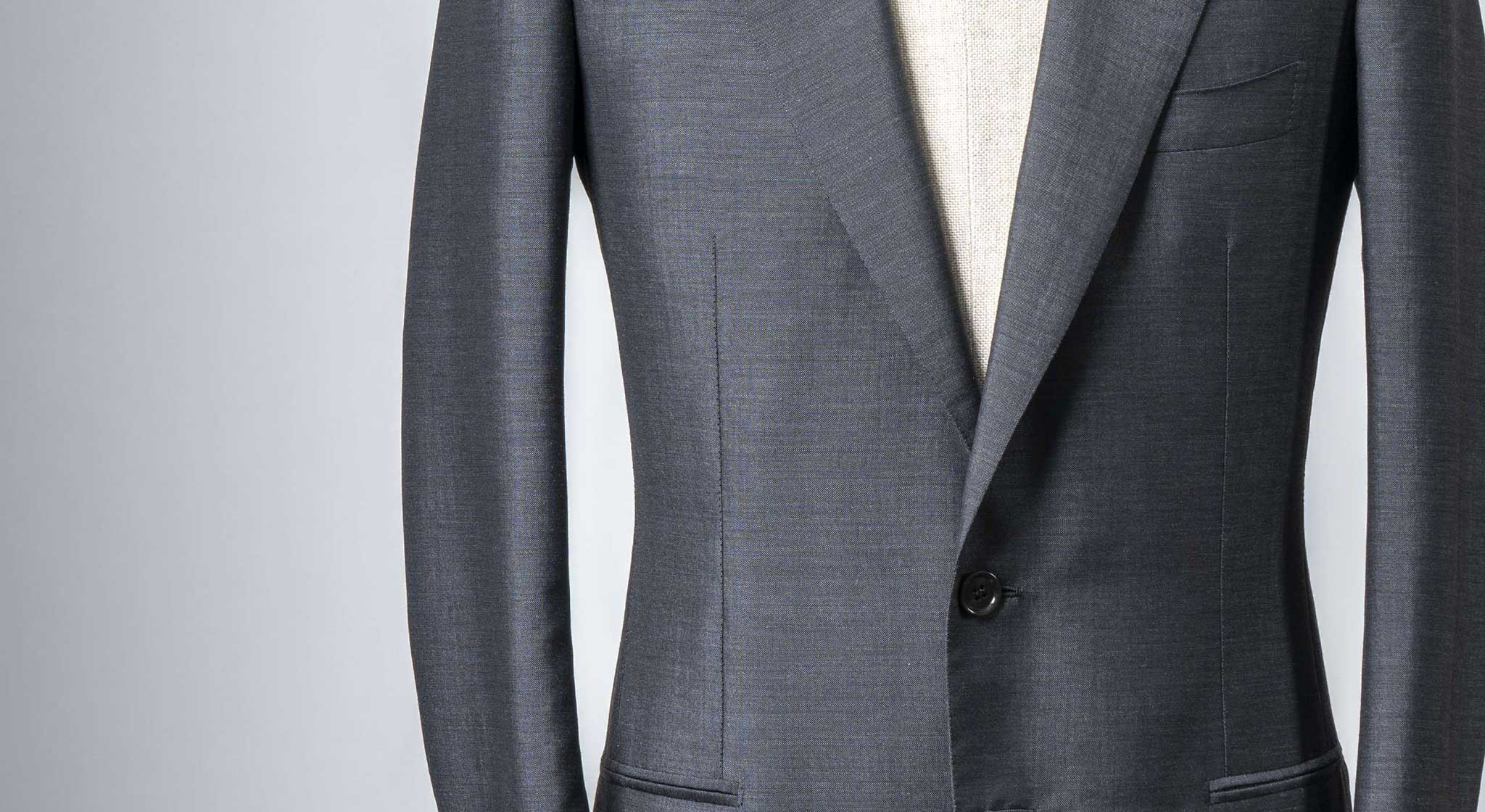 SUIT
The Beautiful Clothing.
The pursuit of
beauty leads to
the perfect fit.
What makes a 'beautiful clothing'? Fine fabric? The details? The design?

When one wears a suit, the body moves in so many ways. We sit, we stand up, stretch out our arms, and even dance. Our clothes should not prevent such smooth movements of our body. A clothing that is 'tiering' to wear, would never become our favourite piece. Beautiful gestures give charming impressions. A clothing that doesn't block action, a clothing that fits well to the shoulders, a clothing that gently follows the movement of the arms and legs, directing a dashing appearance – this is what we understand as 'beautiful clothing'.

Drapes and shadows of the fabric help the beauty of the wearer's movement stand out.

Creating a clothing that is 'comfortable to move in' means creating a clothing that fits the wearer. In other words, it means to create a well-balanced clothing that perfectly fits the individual figure of one's body. The full use of expert tailoring technique enables the flat piece of fabric to form a three-dimensional silhouette that clothes the complex figure of the human body.
Our journey to seek the comfortable, perfectly movable and beautiful clothing, shall never end. In order to create a form that maintains beauty, we spare no effort nor time. Rather than the visually appealing symbolic details of a clothing, we study and contrive the construction of the inside (such as the pads, the canvas, the combination of materials)

The underlying essence of a beautiful garment is the inquiring mind of a proud craftsman, who thinks nothing but how to realize a comfortable and beautiful fit. This wisdom as an artisan represents the sense of beauty living within Hideaki Sato himself, cultivated throughout his experience and time in France and Italy.
The Artisan
~He who creates Beauty~
The word 'Art' combines the meaning 'Skill' within. In Japan, the word Artisan is commonly translated as 'a craftsman', though this translation suggests a slightly different image of what an Artisan is understood to be in Europe.

Nowadays in japan, a 'craftsman' is seen to be a person who develops skills, their goals being to master high techniques. Of course, there is no doubt to the major premise of a 'Artisan' being the development of skills and technique. Though if you meet a 'Artisan' at France or Italy, an Artisan considers themselves to be a 'Person of Art', an 'Artist'.

Hideaki Sato maestro of Pecora Ginza, what drove him to apprentice in France and Italy is; his will to become a true Artisan, an artist, a person of art. His work reveals the wit of a pure Artisan, fulfilled with truly high techniques and skills to accomplish his passion 'to create beauty through tailoring clothes'.

Art is a means to embody beauty. The Artisan develops his Art to create the best and greatest clothing.

Every technique and skill exist for creating the beauty.


PRICE
FULL HAND MADE LINE

Single 2piece Suit ¥345,000〜
OPTIONS

Double Breasted designs require an additional fee of¥10,000

Optional Vest ¥46,000
*All prices are tax excluded.